VISITING DUBLIN
_____________
With the buzz of the city on its doorstep, there's so much more to Stephen's Green Shopping Centre.It's a place to meet, a place to eat or to grab a coffee as you pass by. It's a starting point for your adventure around a youthful, buzzing Dublin. Stephen's Green: Ireland's original premium shopping centre.
Getting to Stephen's Green Shopping Centre
Located right in the heart of Dublin and within walking distance of all public transport links, Stephen's Green Shopping Centre is so easy to find.
Luas
The Luas (Dublin Light Rail System) makes it easy for visitors to Dublin to enjoy Stephen's Green Shopping Centre. The Luas Green Line means that shoppers from as far out as Brides Glen can enjoy a quick spin into Dublin's city centre and all without the hassle of searching for a parking space. The Green line runs through 22 areas, including Dundrum and Ranelagh, and its final stop is directly opposite Stephen's Green Shopping Centre. Therefore, shoppers needn't worry about overloading themselves with Stephen's Green Shopping Centre goodies, as the Luas is simply a 30 second stroll across the road and runs regularly from early morning to late at night.
Trams run every 5 minutes in peak time and every 7.5 minutes in off-peak time.
Luas Free Phone: 1800 30 06 04
Dublin Bus
Dublin Bus is the major public transport provider in the greater Dublin area.
Full details on Dublin Bus routes that serve Stephen's Green Shopping Centre,  fares and tickets can be found on www.dublinbus.ie
So you can keep up with the latest diversions, routes and news, Dublin Bus is also on Twitter and Facebook.
Train and Dart
Stephen's Green Shopping Centre is located approximately ten minutes walking distance from both Pearse and Tara Street stations.
Tax Free Shopping
Most goods in Ireland carry a surcharge of 23% value added tax (VAT). The good news is that any goods purchased by non-EU visitors and taken out of the country within 3 months may qualify for a VAT refund. To avail of this, get receipts from retailers showing name, address and the VAT paid, then take these to the Customs office at your port of exit and have them stamped. The checked receipts can then be sent to the retailer for a refund of the VAT.
However, for a hassle free rebate, the use of a VAT Refund Agency is much more comfortable experience. These agencies will act as intermediaries between you, the retailer and Customs. For a small charge these agencies will either:
Provide for an immediate tax-free sale at the point of purchase
Refund the VAT paid at the airport
Refund the VAT paid later (by cheque or credit transfer)
You should get a leaflet detailing the necessary steps and modes of operation in participating retailers.
Click the following link for further information on tax free shopping:
For further information about visiting Dublin click here and news on events, accommodation, and a host of other things to do.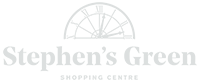 GENERAL OPENING TIMES
Monday – Wednesday, Friday & Saturday 8.30am – 7pm
OTHER OPENING TIMES
Thursday 8.30am – 8pm | Sunday 11am – 6pm
*Some store opening times may vary.