A Great Shopping Centre with a City Attached,
Whether you're grabbing a coffee on the way to work or sitting down with friends for a bite to eat, Stephen's Green Shopping Centre has many quality cafes, top restaurants and bars to choose from. At Stephen's Green Shopping Centre, the choice is all yours!.
For every seasons' hottest fashions and inspirational trends, pay a visit to Stephen's Green Shopping Centre. Our eclectic range of stores carry only the latest styles and the smartest brands.
With over 100 stores, there's always great value available at Stephen's Green Shopping Centre. Check out our Offers and News & Events pages for the low-down on all the latest bargains.
Stephen's Green Shopping Centre
Located in the heart of the most prestigious shopping and cultural area of Dublin city centre, Stephen's Green Shopping Centre hosts a wide variety of top retailers, including household names like Dunnes Stores, Boots, Eason, United Colors of Benetton, Jack Wills, Golden Discs and TK Maxx. Leading home grown retailers, such as Best Menswear and Tribe carry all the premium names and brands found in any of the top European shopping destinations. We also cater to those with slightly more eclectic tastes, with stores such as Asha, House of Japan, and Retro Nation stocking everything from Goth fashions to quirky gifts. Also a one stop shopping destination for tourists, visitors from overseas can find all kinds of high-end gifts and souvenirs at a variety of Irish craft and gift stores, including, The Donegal Shop, Carroll's Irish Gifts, Celtic Spirit and Tipperary Crystal. For those wishing to take a break from shopping or sightseeing, Stephen's Green Shopping Centre has a huge variety of top quality cafes, bars and restaurants to suit all tastes.
Stephen's Green Shopping Centre.
Where Grafton Street begins!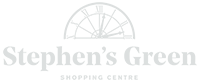 GENERAL OPENING TIMES
Monday – Wednesday, Friday & Saturday 8.30am – 7pm
OTHER OPENING TIMES
Thursday 8.30am – 8pm | Sunday 11am – 6pm
*Some store opening times may vary.