The latest jobs are posted here on behalf of the the various stores in the Shopping Centre.
No Results Found
The page you requested could not be found. Try refining your search, or use the navigation above to locate the post.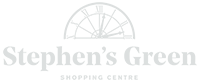 GENERAL OPENING TIMES
Monday – Wednesday, Friday & Saturday 8.30am – 7pm
OTHER OPENING TIMES
Thursday 8.30am – 8pm | Sunday 11am – 6pm
*Some store opening times may vary.